Los Angeles County Sheriff to launch new investigation into "Banditos" deputies
Pasadena Star-News | March 29, 2014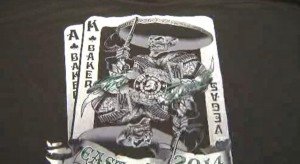 LOS ANGELES (CNS) – Interim L.A. County Sheriff John Scott said a new investigation will be launched into allegations that a group of tattooed male deputies calling themselves the "Banditos" sexually harassed female trainees and demanded sexual favors as a part of an initiation.
This new investigation comes in response to a lawsuit filed by Deputy Guadalupe Lopez, who alleges sexual harassment, hazing and retaliation that included being run off the road by another deputy, being slammed into a wall while she held a loaded shotgun and having a dead rat placed under her car after she reported the actions, according to NBC4.
Lopez also alleged she was shown photos of other female deputies performing sexual favors for male deputies. And she claimed she was nearly driven off the road by a "Banditos" member.
Scott told NBC4 that deputies allegedly involved in the harassment were disciplined after an investigation was launched three years ago, when the allegations first surfaced.
"This lawsuit contains new allegations the plaintiff never reported during an exhaustive investigation," Scott said in a statement issued by the department on Friday. "In fairness to all parties, the sheriff's department will reserve any formal comment on this case while we conduct a thorough investigation for the new claims alleged," he added.
"As Sheriff, I am concerned about the negative perception of monikers, tattoos, or any form of hazing and will not tolerate conduct contrary to our department policies and the law," Scott stated. "Once the lawsuit it completed, we will share our findings."
Lopez, who is still a deputy, was assigned to the sheriff's East Los Angeles station beginning in 2011. She is seeking unspecified damages in her civil suit.
Source article: http://www.pasadenastarnews.com/general-news/20140329/los-angeles-county-sheriff-to-launch-new-investigation-into-banditos-deputies