Montebello teen Brenda Sierra's kidnap, murder case: New clues revealed
KABC | March 30, 2012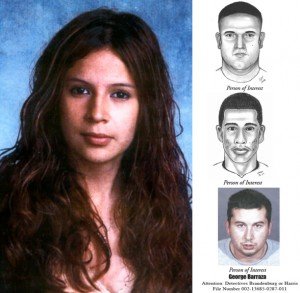 MONTEBELLO, Calif. — New details were released Friday in the kidnap and murder of Montebello teen Brenda Sierra nearly 10 years ago.
Sierra, who attended Schurr High School in Montebello, was on her way to school when she was snatched off the street and murdered in October 2002.
"This essentially is in retaliation for the community's cooperation with law enforcement," said Lt. Dave Coleman with the Los Angeles County Sheriff's Department at a Friday news conference. Sheriff's officials released new composite sketches of two men who might know something about the murder.
Deputies also said they're trying to track down another person, George Barraza, who is wanted for questioning about the murder. Authorities are also looking for two women who may have been involved in the initial kidnapping.
Read more at: http://abclocal.go.com/kabc/story?section=news/local/los_angeles&id=8601776