Father of 2010 shooting victim: 'Every time the door opened in my son's name, I wanted to be there'
By Nicole Santa Cruz | The homicide Report | LATIMES.COM
Posted March 30, 2016, 6:17 p.m.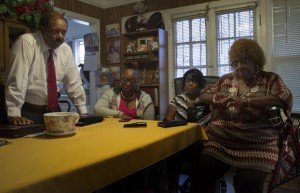 After Joe Randle's son was killed in 2010, he became fearful of his surroundings. He was afraid to walk alone, knowing that the person who shot his son was still out there.
As he waited for an arrest, he wondered if the shooter would be killed before police could find him.
In a downtown Los Angeles courtroom recently, Joe Randle, dressed in a brown suit, stood with a typed statement in his hand. Nearly six years after 21-year-old Jason Randle was gunned down, the day had come for his father to address the court — and his son's killer.
"Jason was my one and only biological son," he said. "Losing him was the greatest hurt I have ever experienced in my life."
Ravanna Mohamed Bey, 39, was sentenced March 17 to 50 years to life in prison in Jason Randle's killing.
Prosecutors and police said that Bey, a documented gang member, was hanging out with friends outside a South L.A. apartment complex on Aug. 7, 2010, when Randle walked by and was shot at close range. Prosecutors said the motive remains unclear.
Read more here:http://homicide.latimes.com/post/father-2010-randle-bey-south-los-angeles-sentencing-father/