Motorcycle gang denies role in Hemet police attacks
by Shelby Grad (LA Times)
March 31, 2010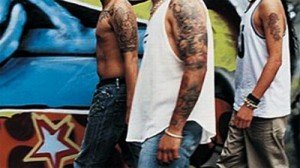 Members of a Riverside County motorcycle gang have denied having anything to do with a string of attacks on Hemet police officers.
Earlier this month, authorities arrested 30 members of the the Vagos motorcycle gang in a major sweep. Authorities never directly linked the string of attacks on Hemet police to the gang. But Riverside County Dist. Atty. Rod Pacheco called Vagos "an extreme threat to law enforcement."
The attacks have involved booby traps at the headquarters of the Hemet-San Jacinto Gang Task Force and the targeting of officers assigned to the unit, officials said.
In December, a gas utility line was redirected to fill the offices with gas; a spark could have triggered an explosion. In February, a modified handgun was hidden by the gate to the office and rigged to fire. When a gang officer opened the gate, the weapon went off, narrowly missing him. And recently, police said, a "dangerous" device was found near the unmarked car of a task-force member.
Several Hemet city trucks were torched late Tuesday night.
In an interview with the Press-Enterprise, one Vagos member said his gang had nothing to do with those attacks and that police were trying to demonize the gang.
"They demonize us and start locking everyone up left and right. In their eyes, everyone's a criminal," said Harry "Doc" Hart, 61, a Hemet dentist and Vagos member. "They can cry 'gang' and 'terrorist' to take DNA from people never arrested. We're subject to this because someone cries wolf."
Authorities say the gang is a criminal enterprise.