3 dead in Atwater gang shooting
RAMONA GIWARGIS (Merced Sun-Star) | April 1, 2013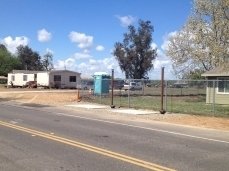 ATWATER — Three people are dead after a gang-related shooting Saturday night in the 9200 block of Westside Boulevard in the Atwater area, the Merced County Sheriff's Department reported.
The victims are described as two men, ages 18 and 19, and a 16-year-old female, according to Sheriff Mark Pazin.
The female victim died on Sunday after being taken to a Modesto hospital for surgery.
Two other males, ages 16 and 21, were wounded during the incident, and were taken to the hospital with injuries that were not life-threatening.
The shooting happened about 11 p.m. after a group of people approached a rival gang at a party near the residence. Pazin said the group was having an Easter-related gathering, and the rivals were able to sneak up on them.
Multiple shots rang out after the confrontation, he said, followed by a series of 911 calls.
Merced and Atwater police assisted Saturday, as well as the fire department. Pazin said many of those injured had already been taken to hospitals when sheriff's deputies arrived.
Authorities said the motive behind Saturday's shooting was gang-related. "Was it gangs involved? Yes, it was," Pazin said during a news conference Sunday. "I'm not going to sugarcoat it. The absolute immaturity and insensitivity over a couple of gang colors is just breathtaking."
Read more at: http://www.mercedsunstar.com/2013/04/01/2915119/3-dead-in-atwater-gang-shooting.html
Photo credit: RAMONA GIWARGIS