OC gang member sentenced for graffiti shooting
The Associated Press
04/02/2010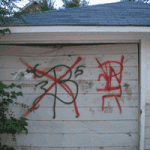 SANTA ANA, Calif.—An Orange County gang member will spend 40 years to life in prison for crippling a father of five who happened by as he was vandalizing a wall.
Twenty-six-year-old Ivan Garcia was sentenced Friday for attempted murder and street terrorism with special allegations that increased the sentence.
Prosecutors say Garcia and another man were spray-painting graffiti on a Garden Grove wall near David Puga's home in 2008 when Puga went outside to pull his truck into the driveway. Garcia shot the mechanic and continued to fire as the bleeding man crawled to his doorstep.
The 45-year-old Puga suffered serious brain damage and is confined to a wheelchair.
Police linked Garcia to the crime through DNA evidence from a spray can he threw away.