Gang solutions are few and far between
By ANDREA CLURFELD (Asbury Park Press)
April 4, 2010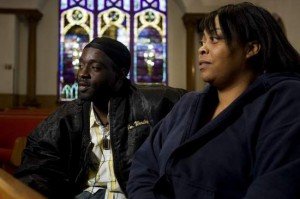 It's a Sunday afternoon, Valentine's Day, and Jarrett Lampkin is darting around a rec room filled with boys at the Lakewood Community Center.
He's helping them write essays that express gratitude to their mothers.
Lampkin is grateful for the organization that brought them all together … Omega 13, and its male-mentoring program aimed at African-American boys ages 6 to 18.
The program was started in 1985 by educator Michael Rush. Lampkin, raised and schooled in Lakewood, is a graduate. Like his mentor Rush, he's now an educator and comes back to Lakewood to return the favor to boys vulnerable to negative influences.
"Be specific," Lampkin tells the boys. "Don't say 'stuff' or 'like.' Think before you write."
It's a way of teaching boys to think before they do anything, including joining a gang. It's key, those in law enforcement and social services say, to engage youngsters in this kind of thought process if the grip gangs have on the community is to be broken.
To date, solutions to the gang problem facing New Jersey have been few and far between.
Members of law enforcement at all levels are grappling with the lack of a centralized, focused plan to combat gang growth and social-services agencies face cutbacks.
Right now, a handful of organizations and individuals are taking a stab at the problem.
They include grblankroots programs such as the nonprofit Omega 13 in Ocean County and Long Branch-based Kingdom Fighters; statewide initiatives led by law enforcement, including the New Jersey Gang Investigators blankociation and the GangWise Project; and national educational efforts such as GREAT … Gang Resistance Education And Training.
"The gang problem cannot be settled regionally," said Edwin Torres, an investigator with the State Commission of Investigation and a nationally recognized expert on gangs. "We need to look at the gang problem as a statewide problem, a national problem. We need to be talking about a long-term, resource-intensive effort by law enforcement."
In other words, what the community needs is a new approach to countering gangs, said Steven Worsley, an ex-convict and former gang member who founded the Long Branch-based Kingdom Fighters, a nonprofit group aimed at identifying community problems and bringing solutions to the forefront.
"Using the same methods, the same programs isn't working," Worsley said. "The times are different. This generation is replacing family, community, church with gangs."
To change that course, Worsley is implementing a work program he's developed in conjunction with Long Branch Concordance, a state Designated Family Success Center in the city. Kingdom Fighters Work Program trains ex-offenders and at-risk people in lawn care and landscaping through Worsley's own business, then offers tax breaks to employers giving them conditional employment.
That kind of approach dovetails with the forthcoming re-entry pilot program state Attorney General Paula T. Dow said her office will introduce next month.
It is the kind of program, said Division of Criminal Justice Director Stephen J. Taylor, that will help "gang members to transition out of gang life."
LBC's former director, Darcy Dobens, said Worsley's initiative is precisely what New Jersey needs.
"Steven's program re-directs people as they come out of prison, trains them and finds them employment," Dobens said. "It's a solution to a major problem."
Other grblankroots initiatives could include:
1) Using graduate students in social work to oversee community programs that provide kids with structured activities and tutoring. Dobens and LBC's current director Lisa Wilson, both graduates of Monmouth University's Graduate School of Social Work, said the school's students must complete many hours of community service in order to attain their degree. "Put them to work in programs in the community," Wilson said.
2) Building a list of available resources. "Find gaps and fill gaps," Dobens said. Worsley said critical gaps typically include the need for meeting places for family entertainment and sports, tutoring and coaching.
3) Bridge the gap between old and new generations. Worsley's wife, Tabitha, is starting Kingdom Kids: "Let kids help seniors with computers, with grocery shopping, with things around the house. Instead of kids expressing themselves in negative ways, involve them with people who .'.'. will be positive influences."
4) Form support groups for wives whose husbands are getting out of prison. Those who have been through the process, Tabitha Worsley said, can "share how to make things work."
5) Identity leaders who can organize, encourage and supervise. "We're in need of a
community leader, a driving force. Someone who won't quit," LBC's Wilson said.
"Investing in prevention is actually saving money," Dobens said. "It's an economically sound principle. Allow those kids who are not getting the structure at home to find a place where there is structure."
Because, Dobens said, if the community doesn't step in, a gang leader will.
Those in law enforcement say programs emphasizing awareness and education need to be continued … and grown.
GREAT, taught in schools in New Jersey by members of law enforcement, is another way to keep gangs from influencing children, according to Lt. Dan Riccardo of the New Jersey State Parole Board, coordinator of its Street Gangs Unit.
"We don't so much talk about gangs in the program as we talk about self-respect," Riccardo said. "That's important with the kids."
To keep current with the latest in training and information, Rosendo Perez, a detective with the Monmouth County Prosecutor's Office, in 2005 formed the New Jersey Gang Investigators blankociation, a nonprofit an education and resource center for gang-related topics.
Perez pointed to the need for a statewide central clearinghouse for gang data and resources. "I could not tell you where to go for a gang member to get into a transition program … to get out of a gang."
That, those in law enforcement and social services agree, is a state of affairs that
cannot continue.
The SCI's Torres, who has been on the front lines of the war on gangs for almost 20 years, continued his personal crusade last fall and winter by presenting, with Ocean County blankistant Prosecutor Rory Wells, his GangWise education and awareness program to communities throughout Ocean County. He called for action … and he called for something more from the community.
"Where is your anger?" Torres asked parents, teachers and other residents gathered late last year at a GangWise presentation. "You need to be angry. You need to be angry that we have communities that allow gangs to exist. That kids think they can find love on the streets. The biggest problem about gangs in New Jersey is denial … denial that the problem is right next door."