Police charge 2 with threats, say they're Latin Kings
Chicago Tribune
April 9, 2010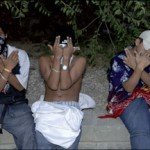 Two men who claim to be Latin King gang members are charged with brandishing a gun and threatening to kill a woman Tuesday night, Bethlehem police said.
Jonathan Pagan, 24, of Bethlehem told the victim he is a "first crown" in the Latin Kings and circled her apartment several times waving a gun, according to court records.
Police said Jonathan Diaz, 18, of Allentown handed Pagan the semiautomatic handgun he used during the incident.
Both men are charged with simple assault, terroristic threats and disorderly conduct and were in Northampton County Prison under $50,000 bail each.
According to court records:
Jackelin Lopez called police around 11:40 p.m. She said a dozen Latin King gang members were outside her apartment building at 1100 Fritz Drive threatening to kill her.
Lopez told police the dispute stemmed from a December incident when Pagan was charged with harassment for allegedly beating her. Court records indicate Pagan was found guilty of harassment.
Lopez told police she saw Pagan at her stepsister's apartment and he became upset and threatened her and her brother, Jorge Millan of Pottstown.
Pagan told Diaz to get the gun, and Diaz handed him the weapon, according to police. As Lopez and Millan walked away, police said, Pagan yelled that he would find them and kill them.
Lopez told police she heard Pagan yell "Su way!" — allegedly the name of his Latin King tribe and the call for members to gather.
Millan told police he heard Pagan slap a magazine into the gun, pull the slide back and chamber a round. He said Pagan circled the apartment building several times, waving the gun.