Vietnamese street gang members convicted in retribution killing
Rick Rojas (Los Angeles Times) | April 10, 2012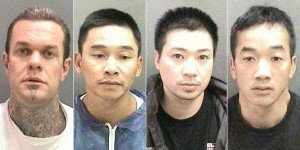 Four members of a Vietnamese street gang were convicted Tuesday in the 1995 slaying of a fellow gang member who abandoned them during a robbery, Orange County prosecutors said.
The four men — Anthony Paul Johnson Jr., 35, of Westminster; Giang Thuy Nguyen, 36, of Fountain Valley; Tam Hung Nguyen, 36, of Riverside and Truc Ngoc Tran, 34, of Santa Ana — were each convicted on one count of murder and a felony count of conspiracy to commit murder in the  shooting death of Viet Nguyen on Feb. 25, 1995.
The men could receive life sentences, according to prosecutors.
Prosecutors said that on Feb. 24, 1995, the men robbed a Huntington Beach home but that Viet Nguyen fled because he thought someone in the house might have recognized him.
That evening, prosecutors said, the four met and decided to ki*l Viet Nguyen to prevent him from implicating the others should he be arrested in connection with the robbery.
The following morning, they allegedly convinced Viet Nguyen to joined them in an outing to buy drugs.
Read more at: http://latimesblogs.latimes.com/lanow/2012/04/4-men-convicted-in-1995-orange-county-gang-execution.html