Sacramento struggles to understand its 'hybrid' gang problem as social media sparks local beefs
Raheem F. Hosseini (News Review) | April 10, 2014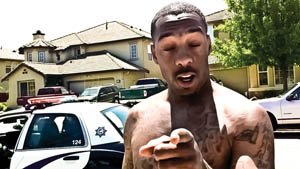 Nine days before allegedly participating in an ambush of a music rival inside of Arden Fair mall—one that sparked a series of gang shootings across the city—south Sacramento rapper Donald "Lavish D" Oliver granted a rare interview to the Siccness, a website dedicated to hip-hop and the beefs that feed it.
The March 6 parley with Siccness Radio co-host Coop D'Vill is revealing. Over the course of nearly 54 uninterrupted minutes, the 29-year-old Oliver whipsaws between defiance and agitation in describing his ongoing problems with local rappers, police and basically anyone who doesn't rep his gang-plagued Mack Road corridor.
"You can't be right here unless you know somebody," he told D'Vill. "And don't say you know Lav, 'cause everybody know Lav. guy, you better name one of the homeys."
The obsession with respect—and our 21st-century way of communicating it—is at the center of a reawakened gangland feud between south Sacramento and Oak Park groups that's run bullet-hot and cadaver-cold since the mid-1980s, according to Sacramento Police Department officials.
"These two gangs have been a problem for our city for a long time," police Chief Sam Somers Jr. told the Sacramento City Council last week.
What's different, however, is the rapid speed at which social media drives inter-gang strife to a tipping point, until it spills into real-world gun violence.
"We've moved into an area where we don't know what the hell is going on," said James Hernandez, a Sacramento State University criminal-justice professor who testifies as an expert in gang cases.
The online quarreling serves a specific purpose, he added. "There's nothing really within the gang to hold them together," he said. "And if you have an enemy, it basically does that."
From March 15-22, Sacramento police recorded eight shootings in total, with 11 victims. Three shootings and six victims were linked to the Arden Fair mall beating of a reported member of Oak Park rapper Mozzy's crew. On March 15, police believe Oliver and six others attacked a young man they pegged as a rival inside the north Sacramento mall. Video of the blankault hit YouTube, and sparked the deadly week in which gang gunfire dropped six bodies, one of them permanently.
In his April 1 presentation to the city council, Somers said investigators traced the antagonism back to an online beef waged on YouTube. "They were just doing it in the virtual mode," he said. "But those were the things that led up to the incidents that occurred on the 15th, where we had those shootings throughout the city of Sacramento."
Read more at: http://www.newsreview.com/sacramento/sacramento-struggles-to-understand-its/content?oid=13183154