Judge in high-profile cases killed outside his Chicago home
Posted by Holly Yan | CNN | April 10, 2017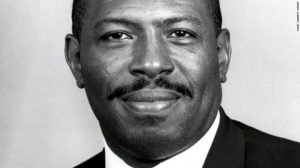 A judge involved in several high-profile cases in Chicago was shot and killed outside his home Monday morning, police said.
Cook County Judge Raymond Myles, 66, and a 52-year-old woman were both shot outside the home on Chicago's South Side, police said. The woman, described as "a close associate of the judge," is expected to survive, Chicago police Chief of Detectives Melissa Staples said.
Myles was involved in the case against William Balfour, who was convicted of killing singer and actress Jennifer Hudson's mother, brother and 7-year-old nephew, CNN affiliate WGN reported.
The judge was also involved in the case of the 1993 massacre at a Brown's Chicken fast food restaurant in Palatine, Illinois, WGN reported.
Staples said it was not clear whether Myles was targeted due to his work as a judge.
To read more click on Link: http://www.cnn.com/2017/04/10/us/chicago-judge-raymond-myles-killed/index.html