Vacaville police arrest pair on suspicion of gang, gun crimes
The Reporter | April 14, 2012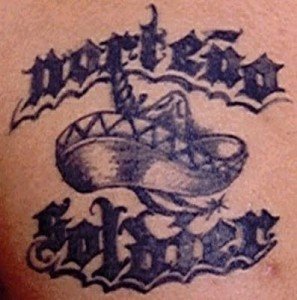 Two teenagers who police said have known gang affiliations were arrested Thursday evening on gun and gang allegations by Vacaville police.
According to police, officers were dispatched to the area of Holly Lane near Rocky Hill Road at approximately 7:15 p.m. on Thursday after a citizen reported two Hispanic male adults dressed in all black clothing had just brandished a firearm at him. According to police, the pair were walking in the area of Holly Lane and Rocky Hill Road when the victim, a nearby resident, passed by in a vehicle. According to police, one suspect lifted up his shirt, displaying a handgun and then pulled out the firearm and pointed it at the victim, tracking his vehicle as he sped away.
The victim said the suspects were last seen on foot walking through the open field from Rocky Hill Road toward Brown Street. Patrol officers and detectives from the Crime Suppression Team converged on the area.
Two subjects matching the description, later identified as Adrian Manual Medina, 18, of Vacaville and a 17-year-old male juvenile from Vacaville, whose name was not released because of his age, were seen walking in the field toward Brown Street. After spotting officers, the two suspects quickly turned around and began running back toward Rocky Hill Road, police said. The pair jumped an apartment complex fence from the field, placing them on Rocky Hill Road. When they saw another officer, Medina quickly opened a nearby garbage toter and began rummaging through it, police said. The two were ordered to the ground at gunpoint and complied with the officers' request.
A search of the garbage toter revealed a fully loaded black semi-automatic 9mm handgun, police said, adding that the gun was unregistered.
Read more at: http://www.thereporter.com/news/ci_20396249/vacaville-police-arrest-pair-suspicion-gang-gun-crimes
Tags:
bloods
,
Crips
,
firearms
,
gang
,
gangster
,
juvenile
,
norteno
,
Solano county
,
Vacaville