Superior Court judge rules in favor of Irwindale officials accused of corruption
Sarah Favot (Pasadena Star-News) | April 15, 2014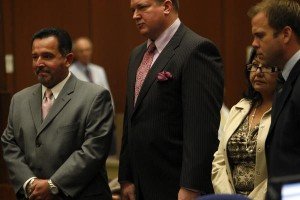 LOS ANGELES >> A Los Angeles Superior Court judge ruled in favor of Irwindale officials in their attempt to dismiss some of the public corruption charges alleged against them.
The charges of embezzlement, conflict of interest and misappropriation of public funds against Mayor Mark Breceda, City Councilman Manuel Garcia and former City Councilwoman Rosemary Ramirez, now a city planning commissioner, stem from several trips the officials took to New York City between 2001 and 2005 in an attempt to increase the city's bond rating.
Monday's ruling paves the way for the conflict of interest and misappropriation of public funds charges against the officials to be dismissed or allows the district attorney to file an amended complaint against the officials.
Superior Court Judge William C. Ryan granted defense attorney Anthony Falangetti's request to review a decision made by Judge Roberto Longoria in December. Longoria ruled prosecutors presented sufficient evidence to arraign the officials on all of the charges.
Defense attorneys argued the statute of limitations had expired on some of the alleged wrongdoing. Embezzlement has no statute of limitations.
The trips, where the officials ate at expensive restaurants, used limousine services, attended Broadway shows and New York Yankees games, cost taxpayers about $200,000.
Ryan wrote Longoria can allow prosecutors to amend the complaint against the officials or back up his original ruling.
Defense attorneys characterized Monday's decision as a win.
"We believed all along that in the complaint as filed, the charges against them were improper and incorrect," said Falangetti, who represents Breceda.
Read more at: http://www.pasadenastarnews.com/general-news/20140415/superior-court-judge-rules-in-favor-of-irwindale-officials-accused-of-corruption
Photo credit: Genaro Molina / Los Angeles Times