Gang member acquitted in mistaken-identity killing
The Associated Press | April 17, 2012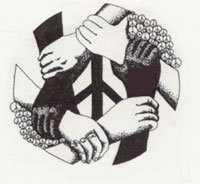 SANTA ROSA, Calif.—A gang member accused in the mistaken-identity killing of a musician has been acquitted of murder and conspiracy charges.
Sonoma County jurors, however, found 31-year-old Christopher Mancinas guilty of participating in a criminal gang Monday.
Mancinas and three others were charged in the 2010 fatally shooting of 24-year-old Dewey Tucker as he drove on Interstate 80 in Contra Costa County. Prosecutors say they were seeking revenge on a gang rival who lived near Tucker.
Tucker, a bass player from Vallejo, was not involved in gangs.
The Press Democrat of Santa Rosa reports that Mancinas maintained he was only trying to broker peace between the rival gangs.
He faces a maximum of 12 years for the gang conviction.
The other three defendants, including alleged shooter Raul Vega, are set for trial later this year.
Source article: http://www.dailynews.com/ci_20417652/gang-member-acquitted-mistaken-identity-killing
Image source: respectallbeings.com