Authorities call anti-gang efforts in Norfolk ineffective
Harry Minium (Virginian-Pilot)
April 18, 2010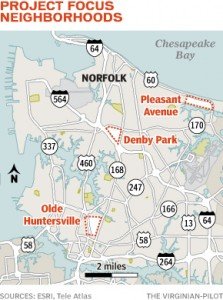 NORFOLK – City Manager Regina V.K. Williams believes the best way to combat youth gang violence is to link teenagers with mentors. Her philosophy has played out in two city programs coined Save our Children and Project Focus.
But the majority of Williams' bosses, the City Council, have pushed for a more direct approach. They want police and city workers to infiltrate gangs and break them up.
The different approaches surfaced publicly recently when Williams asked the head of the city's Save Our Children gang prevention program and Project Focus, an anti-crime initiative in three low-income neighborhoods, to step down.
Now the two highly touted city programs are being reexamined.
Police and prosecutors alleged earlier this year that the mentoring methods of the programs' former head, Barbara Lai, bordered on obstruction of justice.
City Commonwealth's Attorney Greg Underwood recently looked into the allegations. Amanda Howie, a spokeswoman for Underwood, said the information gathered was shared with Williams. It "did not lead to or support a criminal charge of obstruction of justice," Howie said.
Williams said she doesn't believe that Lai committed any infractions.
However days after a meeting between Underwood, Williams and Police Chief Bruce P. Marquis to discuss the allegations, Williams reassigned Lai, saying she did so "for her own professional good."
Nikki Riddick, who formerly worked in City Hall, has been named temporary head of Project Focus and gang prevention.
As head of the city's gang initiative, Lai was Williams' disciple in more than a dozen neighborhoods. Although she has no formal training as a social worker or counselor, she is a certified gang specialist by the Virginia Gang Investigators Association.
Lai said she hosted pizza and pajama parties and walked the streets on weekends, counseling teenagers to stay out of trouble. If they needed rides home or to school, she took them. She interceded for many with the police, commonwealth's attorney's office and in juvenile court and visited some after they had been arrested.
"I've have been around kids threatening to use firearms and talked them out of it," she said.
Lai continues to work with Project Focus, and has other duties at City Hall as an assistant to Williams. However, Lai said she is no longer allowed to have contact with the many teenagers she worked with for two years.
Councilman W. Randy Wright said Lai had a big heart.
"But she needed to delegate, back off half a step and have the pros do what they need to do.
"I think you've got to have someone with a little more background in law enforcement who can mesh with the Police Department."
Councilman Barclay C. Winn said Lai "may have stepped over the line a little" in trying to help some youths suspected by the police of committing crimes.
"She probably got too attached to these kids."
Project Focus was initiated in late 2007 after demands from Wright for an increased police presence in East Ocean View. Eventually, it also encompassed the Denby Park area near Wards Corner and Olde Huntersville neighborhood just outside of downtown.
The city placed surveillance cameras in all three neighborhoods this year. A rental inspection program was started and code enforcement was increased.
But the program has been troubled from the start. The first Project Focus director was Alphonso Albert, a convicted felon who was forced to resign in late 2007 after word of his violent criminal past became known. Lai was named the temporary head of the program in 2008 and permanent head in 2009.
Williams said both anti-crime efforts have worked as she designed them, noting that juvenile crime has dropped in most areas.
She said she was in the process of hiring two outreach workers with federal stimulus money to continue Lai's mentoring work. But given the criticism that Lai has received, Williams said she fears council members, the police and prosecutors "will snipe at them as they sniped at Barbara."
So far, civic leaders give Project Focus mixed reviews. Olde Huntersville resident Linda Horsey, the former civic league president and a member of the housing authority board, said the effort has had little effect on her neighborhood.
"There's been a lot of talk and no action," she said.
She said was unaware that Lai had stepped down. "Now that she's gone, I hope it will become a serious effort," she said, saying code enforcement under Project Focus was weak.
Rebecca Luce, who heads the civic league in Denby Park, said Lai "pushed for a lot of good things in our neighborhood. She had a very altruistic view of helping young people." But she added that she thinks Lai had "tunnel vision."
"Barbara went on a different path and got lost," she said. "Our neighborhood has major issues with drugs and gangs. Her outlook was more at trying to help the few, and we have many."
Luce praised the city's new interim director saying she has "a lot of great ideas for how to restore the focus to Project Focus."
For her part, Lai said she wouldn't change anything she has done. "I was never aware of an inquiry into obstruction of justice. Honestly, I'm not even sure what obstruction of justice is. I just know that I helped a lot of kids.
"These kids have nothing. Many of them have no real family life. If you've seen the movie 'The Blind Side,' then you know exactly what I was trying to do."
Harry Minium, (757) 446-2371, harry.minium@pilotonline.com