Gang tattoo leads to a murder conviction
Robert Faturechi (Los Angeles Times) | April 22, 2011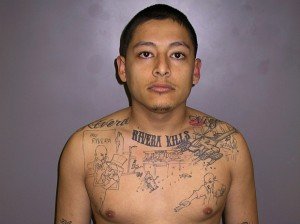 The process was routine. L.A. County Sheriff's homicide investigator Kevin Lloyd was flipping through snapshots of tattooed gang members.
Then one caught his attention.
Inked on the pudgy chest of a young Pico Rivera gangster who had been picked up and released on a minor offense was the scene of a 2004 liquor store slaying that had stumped Lloyd for more than four years.
Each key detail was right there: the Christmas lights that lined the roof of the liquor store where 23-year-old John Juarez was gunned down, the direction his body fell, the bowed street lamp across the way and the street sign — all under the chilling banner of RIVERA KILLS, a reference to the gang Rivera-13.
As if to seal the deal, below the collarbone of the gang member known by the alias "Chopper" was a miniature helicopter raining down bullets on the scene.
Lloyd's discovery of the tattoo in 2008 launched a bizarre investigation that soon led to Anthony Garcia's arrest for the shooting. Then sheriff's detectives, posing as gang members, began talking to Garcia, 25, in his holding cell. They got a confession that this week led to a first-degree murder conviction in a killing investigators had once all but given up hope of solving.
For Lloyd, the image on the chest of the delicate, doe-eyed gang member brought back a rush of memories. The snapshot was taken inside the sheriff's Pico Rivera station after Garcia was arrested in a routine traffic stop and booked on suspicion of driving with a suspended license.
Before they are released, suspected gang members typically are asked to remove their shirts and have their tattoos photographed by graffiti team deputies. Taggers often mark their own bodies with the same signatures they spray on buses and storefronts — and eyewitnesses to crimes sometimes help close cases by recalling distinctive tattoos.
Homicide Lt. Dave Dolson said gang members frequently get symbolic tattoos to bolster their street cred: three dots on the hand to signify "mi vida loca" ("my crazy life"), sketches of prisons where they've done time, gang insignia prominently stenciled on their heads and torsos.
But a tattoo laying out a detailed picture of a crime scene is something far outside the norm. "I haven't seen it before, and I haven't heard of anything like it either," Dolson said.
Read more at: http://www.latimes.com/news/local/la-me-tattoo-20110422,0,1399043.story?track=rss
Image credit: Los Angeles County Sheriff's Department
Tags:
cold case solved
,
distinctive tattoos
,
mi vida loca
,
peanut
,
Rivera 13