Jury selection begins in trial of slain South LA teen
Andrea Kowalchik (The South Los Angeles Report) | April 24, 2012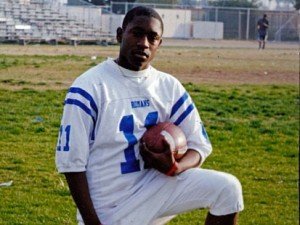 Pedro Espinoza sat silently in court wearing a brown suit, glasses, and sporting a fresh crew-cut. He kept his eyes focused on his lawyers, asking them questions periodically. Directly behind him in the first row, sat the Shaw family. While the defense questioned potential jurors, Jamiel Shaw Sr. watched Espinoza, the man he believes gunned down his son. 17-year-old Jamiel Shaw Jr. was shot March 2, 2008 while he was just three doors away from home.
"He was a good kid, never been in any trouble, never been arrested, never been suspended from school," said Shaw.
Espinoza is a member of the 18th Street gang and an undocumented immigrant. He had been released from county jail on gun charges just one day before Shaw was shot. Twenty-three year-old Espinoza now faces the death penalty.
"Even though in California, what's the odds of having the death penalty?"said Shaw.
The Shaw family has spent the four years between the arrest and the trial trying to get "Jamiel's Law" on the city ballot. The law would allow police to arrest and deport undocumented immigrants if they have been identified as known gang members. Shaw Sr. says that if this had been in place four years ago, his son might still be alive.
"These are the ones that they need to protect us from. Criminals, killers, murderers, rapists. And they're not doing it, because if they did, they would have had him because he's three gun charges in a row, and you didn't know he was in the country illegally?" said Shaw.
Read more at: http://www.intersectionssouthla.org/index.php/site/story/jury_selection_begins_in_trial_of_slain_south_la_teen1/
Posted by
Lora
on Apr 24 2012. Filed under
News
,
People of CA v. Pedro Espinoza
. You can follow any responses to this entry through the
RSS 2.0
. You can skip to the end and leave a response. Pinging is currently not allowed.