San Diego Gang Notification Letters Are A Win For Transparency — And So Far Not Much Else
Megan Burks | April 28, 2014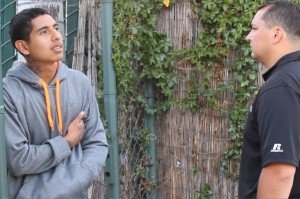 A new California law went into effect this year requiring law enforcement agencies to notify parents when their children were entered into a statewide gang database. The law came after civil liberties groups and residents in communities with heavy gang activity — and policing — called for more transparency.
The CalGang system notoriously is impervious to records requests. It's possible that an individual won't find out they're even in the database until he or she is in court facing a stiffer sentence for a crime because records indicate he or she is gang-involved.
Now parents will learn police believe their children are gang members in a letter instead of at an arraignment. But there's still a dilemma the new law doesn't solve: what to do once the letter arrives.
San Diego gang Lt. Mark Bennett said his department has sent 10 of the letters this year. The response? Crickets.
"The parents are already usually detached from their kids or sometimes the parents are gang members," Bennett said. "So we don't get a lot of positive response."
Bennett said officers typically have observed the individuals they document associating with gang members and wearing gang insignia a dozen or so times — well above the three write-ups they need by law to add them to CalGangs.
The notification letters offer a direct line to Bennett and his colleagues and encourage parents to appeal the decision. So far, no one has. When parents did respond, Bennett said, the communication fell off because of fear.
Read more at: http://www.kpbs.org/news/2014/apr/28/gang-notification-letters-are-win-transparency-and/
Photo credit: Katie Schoolov / KPBS