6 Arrested in South L.A. After Baltimore Police Warn of 'Credible Threat,' LAPD Go on Alert
by Ashley Soley-Cerro and Wendy Burch | KTLA 5 News
Posted 6:22 AM, April 28, 2015, Updated at 04:10pm, April 28, 2015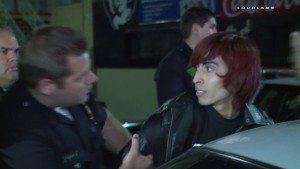 As protests in Baltimore over the recent death of a man in police custody grew increasingly violent and the LAPD was warned of a "credible" gang threat, six people were arrested at a South L.A. protest, officials said Tuesday.
About 50 protestors gathered near South Broadway and West 65th streets (map) around 8 p.m. Monday, Los Angeles Police Department Sgt. Rick Rodgers said.
The group began walking toward LAPD's 77th Street Community Police Station around 10:30 p.m. when officers ordered the crowd to disperse.
Six people – three women and three men – were then arrested near South Broadway Street and West Florence Avenue (map), Rodgers said.
Four were arrested for refusing to obey officers' orders and resisting arrest, one for attempting to free someone in custody and one for failure to disperse, LAPD Officer Sara Faden said.
The gathering came on the heels of violent protests and riots in Baltimore, where a state of emergency was declared and the National Guard was called in on Monday.
The declaration came as at least 15 police officers were injured – six of them seriously, CNN reported.
Baltimore police also warned of a "credible threat" that gangs, including the Bloods and Crips in Los Angeles, planned to team up to "take out" law enforcement.
Read more here: http://ktla.com/2015/04/28/6-arrested-in-south-l-a-after-baltimore-police-warn-of-credible-threat-lapd-go-on-alert/