Gang member guilty in Sacramento deputy's slaying
Andy Furillo
April 30th 2010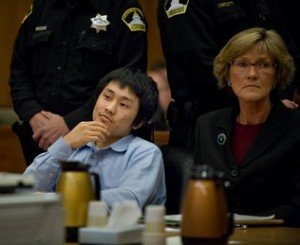 A courtroom filled shoulder-to-shoulder with police officers and sheriff's deputies reacted in powerful silence Wednesday when a jury convicted a Sacramento street gang member of first-degree murder in the shooting death of a brother lawman.
Outside the courtroom, some of their eyes were bloodshot, their grief not erased much by the guilty verdict returned against Jimmy Siackasorn in the shooting death of sheriff's Detective Vu Nguyen.
"As you hear the verdict, you feel some sense of satisfaction with what took place," Sheriff John McGinness told reporters. "It does, however, unfortunately punctuate the fact that this was a significant loss that did not need to happen.
"I think for the Sheriff's Department family and the friends and family of Vu Nguyen, that reality is not eased by this at all. It's still a very memorable and tragic event in the history of this community and the history of this department," McGinness said.
Siackasorn, 19, was 16 years old when he murdered Nguyen on a rainy Dec. 19, 2007, afternoon in a rough neighborhood squeezed between the Campbell's Soup factory and Highway 99 on Sacramento's south side.
With a warrant out on him for running away from a group home, Siackasorn stood outside a house that served as a Tiny Rascals Gangsters hangout at 37th Street and 42nd Avenue, waiting to buy $5 worth of marijuana. Around 2 p.m., Nguyen and his partner, Detective Ed Yee, swooped down on Siackasorn in an unmarked car from the sheriff's gang task force.
The defendant took off in a sprint. Nguyen jumped out of the car and gave chase. The two hopped backyard fences and landed atop a chicken coop, where Siackasorn turned and shot the deputy three times with a .22-caliber revolver he was holding for a fellow gang member.
It took the 10-man, two-woman Sacramento Superior Court jury about 3 1/2 days of deliberations to find Siackasorn guilty of the first-degree murder. The panel also affirmed a special-circumstance allegation that Siackasorn ki*led Nguyen in the line of duty. Siackasorn is expected to be sentenced to life in prison with no parole when he faces Judge Cheryl Chun Meegan on May 26.
Because Siackasorn was a juvenile at the time of the crime, he was not eligible for the death penalty.
Deputy District Attorney Rod Norgaard called Nguyen "a solid officer," one of hundreds in Sacramento County who "put their lives every day on the line for us."
Norgaard said it's been "a long road" for the Nguyen family. About a half-dozen family members observed the verdict and departed without comment.
He said the jurors "worked hard and they did a great job and they got a good verdict."
Dressed in a blue shirt, white khakis and orange jail sneakers, Siackasorn looked straight ahead and remained quiet during the verdict. Uniformed bailiffs surrounded him.
After the verdict, one of the jurors called Siackasorn "a throwaway kid," rejected by his family and living on the streets when Vu confronted him. He had no family to support him in court Wednesday or throughout the trial. His lawyer said even Siackasorn's fellow gang members despised him.
As for the case, blankistant Public Defender Sue Karlton said "the truth is a police officer was ki*led." She had conceded during trial that Siackasorn shot and ki*led Nguyen, but she argued that her client didn't know he was a law enforcement officer and that he fired in self-defense.
Karlton said she was disappointed in the verdict. "But that jury worked real hard," she said.
Three jurors interviewed by The Bee – all of whom spoke on condition of anonymity, in fear of street gang retaliation – described the evidence against Siackasorn as "overwhelming." They said there was ample evidence he knew he was being chased by a deputy.
The foreman of the panel said he found the testimony of Nguyen's partner, Ed Yee, the most compelling of the trial. Yee didn't actually see the shooting or hear Nguyen identify himself as a deputy, but the foreman said it was Yee's refusal to embellish that made him a powerful witness. "He was so absolutely honest," the 68-year-old foreman said.
Through 78 witnesses over 13 court days, Norgaard portrayed Siackasorn as a cop-hater who freely expressed his disdain of law enforcement over the course of 26 arrests and repeated stays in juvenile custody in the four years that preceded the shooting.
Siackasorn threatened officers even after his arrest in the detective's kil#i*gg, telling one of them that the slain deputy "deserved it," according to the trial testimony.
More than 100 people, most of them officers and deputies from blankorted agencies, showed up to hear the verdict. About 30 officers made it into the courtroom. In the hallway, reaction was the same as it was inside – mostly silent.
Sacramento Detective John Fan was the only street cop who gave voice to the officers' feelings. He worked closely with Nguyen on the gang detail.
Fan said, "Vu was a great detective. … I'm going to miss him.
"It doesn't matter what the verdict is," Fan said. "It's not going to bring him back."