Gunmen open fire at memorial party for slain gang member in Watts
Shelby Grad (Los Angeles Times) | May 1, 2011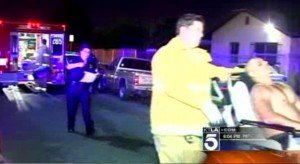 Los Angeles police believe three men opened fire during a memorial party for a gang member on Saturday morning, wounding seven people.
The incident occurred on Holmes Avenue in cduring an event that was arranged as a fundraiser to offset funeral costs for 22-year-old Jesus Sanchez. Witnesses told KTLA News that Sanchez was killed in the same neighborhood.
One witness told the station that her friends were dancing when the gunmen opened fire.
"It was a mess in there," one neighbor recalled. "Everyone was running like crazy."
The Los Angeles Police Department said the gunmen were gang members.
All the victims were expected to survive. They are all in their 20s and six are women.
View video at: http://latimesblogs.latimes.com/lanow/2011/05/gunmen-open-fire-at-memorial-party-for-slain-gang-member-in-watts.html