Former gang member tells his story
ALEX K.W. SCHULTZ (THE PORTERVILLE RECORDER | May 02, 2011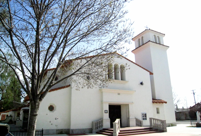 A young mother sat on a couch inside her small apartment in east Porterville two weeks ago and cried as she talked about her 12-year-old son.
"I'm so afraid he's going to get into the gangs," the mother, who wished to be unnamed, said. "I'm just worried."
She said she has caught her son, a sixth-grader at Olive Street Elementary School, looking on the Internet at gang-related material and imitating it. She said he sometimes "walks like he's a gangster" and has called her a "scrapa," which is a derogatory term Norteños call Sureños.
Norteños and Sureños — Northern and Southern gang members, respectively — have been hated rivals for many years.
The mother said she has even had to lie down in front of the apartment door several times to prevent her son from going out late at night.
"He's like a totally different kid," the mother said. "I don't know what's going on."
The small family's living situation is not ideal. The single mother used to work two jobs but now lives on disability payments. She divorced her husband, who does not pay child support, when her youngest son was 2 years old. Her oldest son, who is 20, is in jail.
"He's angry because he doesn't have his dad or his brother," the mother said of the 12-year-old.
According to Bob Perez, who provides support and assistance to at-risk youth and their parents as a liaison for the Porterville Unified School District and the Porterville Police Department, people join gangs because "they want to belong, they want to be loved and they want to feel needed."
But the mother loves her son. She takes him to Catechism classes at St. Anne's — when he agrees to go — and is trying to get him to play on a tackle football team.
So, Perez said, a lack of love is not always the problem. Sometimes, communication breakdowns can be just as bad or worse, he said.
"Parents aren't running their kids away because they don't love them," Perez said. "They're just not communicating as they ought to."
Perez said parents need to communicate "love, patience and respect" to their children.
"Some parents and kids don't know how to communicate anymore," he said.
Read more at: http://www.recorderonline.com/news/former-48632-ago-talked.html
Tags:
communication breakdown
,
Nortenos
,
scrapa
,
surenos