LASD's Paul Tanaka, Tom Carey plead not guilty
By Marc Cota-Robles , Miriam Hernandez and Lisa Bartley | ABC 7 News
Thursday, May 14, 2015 06:46PM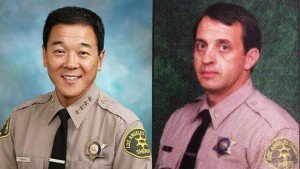 LOS ANGELES (KABC) –Former LASD Undersheriff Paul Tanaka and former LASD Captain Tom Carey are out on bond after pleading not guilty to federal charges of obstructing an FBI investigation into brutality and corruption in the Los Angeles County jails.
The former lawmen looked glum as they entered magistrate court Thursday afternoon – handcuffed and shackled, but wearing street clothes. If convicted, the charges could send the men to federal prison for years.
Tanaka and Carey did not answer questions as they left the courthouse. Booking photos, fingerprints, a passport surrendered. It's a strange about-face for the two men who spent a collective 60-plus years in law enforcement.
"Both men were aware that there was rampant abuse at the jail, and both men were aware that the internal investigations of that abuse were insufficient," U.S. Attorney Stephanie Yonekura said at a news conference.
Yonekura and FBI Assistant Director in Charge David Bowdich condemned a "corrupt culture" they say was fostered by the defendants and their co-conspirators.
"Tanaka had a large role in institutionalizing certain illegal behavior within the sheriff's department," Yonekura said.
Tanaka and Carey are both charged with conspiracy to obstruct justice and obstruction of justice. Carey is also charged with two counts of making false statements.
Read more here: http://abc7.com/news/lasds-paul-tanaka-tom-carey-plead-not-guilty-/722113/