Gang Hideout Busted – Guns and Drugs Found
Kathryn Herr (CBS47) | May 17, 2012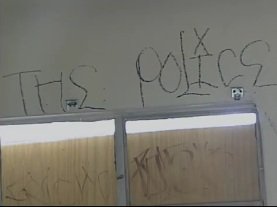 Fresno Police busted a gang house in southwest Fresno. Inside the home they found a sawed-off rifle with a threat to police carved into the stock.
The home is just four blocks away from the house where a murder occurred Friday afternoon.
At the gang hideout discovered by police, graffiti and gang symbols are visible on the outside of the house.
But inside it's far worse inside.
Every wall, cupboard, even the ceiling is covered in gang graffiti. The house was vacant. It was taken over by gang members.
"They're using the locations to do drugs and it's bringing blight into the communities," said Sgt. Joe Alvarez with the Fresno Police Department.
Burglaries and break-ins increase when gang members move into a neighborhood.
"This is not the neighborhood's fault. They want these people gone. They don't want the damage, the vandalism, the criminal activity coming in," Alvarez said.
Read more at: http://www.cbs47.tv/news/local/story/Gang-Hideout-Busted-Guns-and-Drugs-Found/AlhqvWPO9UG5aCS2_Xmigg.cspx