Oakland Latino gangs defined by the colors they wear
Scott Johnson (Oakland Tribune) | May 23, 2011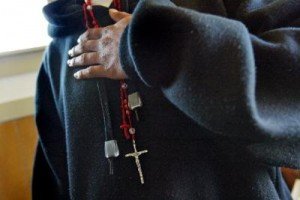 Until he was 15, Victor Sanchez lived on 35th Avenue in East Oakland. He played football, and he enjoyed school. He had nothing to do with gangs. Then, one day, his mother moved him to 98th Avenue. Sanchez didn't know anyone in the new neighborhood. Worse, he couldn't leave his apartment or walk on the streets around his house without running into thuggish young men from the gang that roamed the neighborhood — the Border Brothers.
"I was always getting into trouble with them, always chased," said Sanchez, not his real name. "I'd get jumped all the time, and one day they pulled a gun on me. They showed me death in the face."
It was a rough time for Sanchez in other ways, too. That year, his father was killed by his own brother during a family quarrel in Mexico. Sanchez's mother, meanwhile, could not protect her son from the thugs on the streets outside their house on 98th. "I couldn't even go to the store," he said. "So I started to stand up for myself."
While everything else in his life was falling apart, Sanchez found protection, and some degree of solace, in a rival gang, the Norteños. "It was too much for one little head to handle," he said. "I learned how to move with it, how to hide it."
Seven months later, on the Day of the Dead, the Norteños initiated Sanchez in a process known as getting "jumped in," whereby he was severely beaten until the others were satisfied. "I got dropped a couple of times," he said, "but I got back up. I got heart." That was when he took the street name "Bloody." He was 16.
Sometime this month, Alameda Superior Court Judge Robert Friedman is expected to deliver a verdict on a proposed gang injunction targeting 40 suspected members of the Norteño gang. The injunction, proposed by City Attorney John Russo in 2010, has dominated headlines for more than half a year and helped foster a sense that Oakland's Latino gang members number in the thousands. That's not the case.
Oakland police estimate there are roughly 700 Latino gang members in the city — 400 Norteños, 150 Border Brothers and 150 Sureños. Those numbers appear to have remained relatively steady over the past 10 years, despite a 13 percent increase in Oakland's Latino population since 2000, according to census figures.
Latinos now make up 25 percent of Oakland's population, on par with the African-American and white numbers. Yet the topic of Latino gang violence has remained front and center. On Tuesday, the Oakland City Council voted 4-3 to support the injunction after several hours of testimony from supporters and opponents.
Opponents say the injunction unfairly maligns innocent young people who they fear will be victims of racial profiling by police. But others, including store owners and concerned parents, support efforts to crack down on gangs, saying they are responsible for wrecking young lives and destroying communities.
The Norteños, or Northerners, form the oldest and largest of the three big Latino street gangs in the East Bay. Norteños identify with the color red and by "N," the 14th letter of the alphabet, which they often tattoo on their chests and arms in Roman numerals as XIV. Norteños have a broad but loosely defined relationship with the Nuestra Familia prison gang, whose members, according to law enforcement officials, are involved in drug trafficking, prostitution and gunrunning.
But while Nuestra Familia is highly organized, the Norteño street gang is less so.
"If a Norteño was to go to prison, they'd hang out and congregate with similar people, but that doesn't make them a member of Nuestra Familia," said Lt. Fred Mestas, who directed the Oakland Police Gang Unit from 1991 to 1998 and is considered a local expert on the subject. Equally powerful in prisons are members of the Mexican Mafia, or MM, a criminal organization with roots in Southern California.
On the streets, these southerners, or Sureños, identify with the color blue and the letter M. With the exception of a few small groups, Sureños are recent arrivals to Oakland.
Read more at: http://www.mercurynews.com/breaking-news/ci_18106970?nclick_check=1
Image credit: Laura A. Oda/Oakland Tribune Staff