Jury orders death penalty for killer of Jamiel Shaw II
By Victoria Kim (Los Angeles Times) | May 24, 2012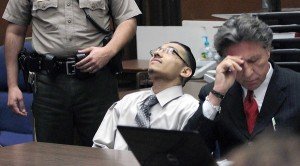 A 23-year-old gang member who shot and killed a high school football star he mistook for a rival gangster in 2008 should be put to death, a Los Angeles jury decided Wednesday.
Jurors reached the verdict after about a week of testimony in the penalty phase of the trial for Pedro Espinoza, a member of the 18th Street gang. The panel was asked to decide what punishment Espinoza should receive for the slaying of 17-year-old Jamiel Shaw II.
Prosecutors said Shaw was killed execution-style because he was a young black male carrying a red Spider-Man backpack, which led Espinoza to believe he was a Bloods gang member. The same jury earlier this month convicted Espinoza of first-degree murder in Shaw's death and found true special allegations that he acted as part of a gang and personally discharged a firearm, making him subject to the death penalty.
Espinoza, hair slicked back on his once-shaved head with the tattoo "BK" — for Blood Killer — still visible behind his left ear, looked up at the ceiling just before the verdict was read and bit his lips. He showed no reaction at the verdict.
In the gallery, a smile spread across Shaw's mother's face and his father nodded his head. Most family members wore red, which they previously said was in protest of Espinoza.
"I hope he leaves prison the same way my son came into the mortuary — in a casket," the teen's father, Jamiel Shaw Sr., said outside court.
Read more at: http://www.latimes.com/news/local/la-me-jamiel-shaw-verdict-20120524,0,1868456.story?track=rss
Posted by
Lora
on May 24 2012. Filed under
News
,
People of CA v. Pedro Espinoza
. You can follow any responses to this entry through the
RSS 2.0
. You can skip to the end and leave a response. Pinging is currently not allowed.