College coach has been here before: Promising student-athlete is lost to violence
By Jeanette Marantos | Homicide Report | Latimes.com
Posted May 25, 2016, 12:07 p.m.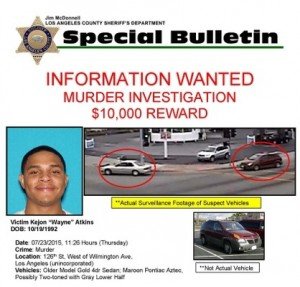 Brett Peabody has coached college football for 14 years in South Los Angeles and Long Beach, and he's learned that sometimes his student-athletes need more than grit on the field; they need it to survive their everyday lives.
Kejon Atkins, 22, had it. But it still wasn't enough.
"Here's a young black man just walking down the street in the wrong side of town. … It's terrible, just terrible," Peabody said.
Atkins was near his Willowbrook home, walking along East 126th Street at Wilmington Avenue, when two cars pulled up and someone shot him just before noon on July 23, 2015.
"You can't help where you grow up," Peabody said. "You live where you can afford to live, and in Southern California, it's not easy."
Atkins played football for Mayfair High School in Lakewood and met Peabody, who was a coach at Los Angeles Harbor College. Atkins followed Peabody to Long Beach City College the following year.
Read more here:http://homicide.latimes.com/post/kejon-atkins-willowbrook-lbcc-coach/