LA Man Creates Tour of Gangsta Hot Spots
www.aolnews.com
May 31, 2010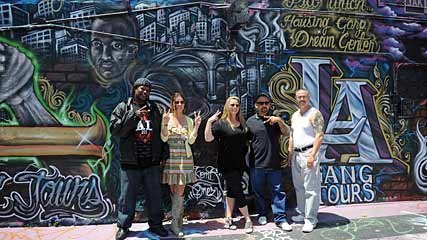 (May 31) — Tourists who visit Los Angeles often visit Grauman's Chinese Theatre to see the footprints of the stars. Now they can also dip their toes into gangsta culture.
For the last six months, an L.A. company, LA Gang Tours, has been offering tours of the city's hottest gang spots, including the county jail, the birthplace of the Black Panther Party and a lab where graffiti artists ply their trade.
The tours are priced at $65 and, along with seeing the sights, polo shirt-wearing tourists can also take photos with reformed gang members and ask them questions about the thug life.
The idea is the brainchild of Alfred Lomas, a former member of the notorious gang Florencia 13, which has a rich history in L.A. ever since the Zoot Suit Riots of the 1940s erupted between white sailors and Marines stationed throughout the city and Latino youths.
Lomas says the reason South Central became ground zero for gangs is because of massive segregation that occurred in Los Angeles between 1900 and 1960. "There are some gangs that go back three to four generations. There's no doubt that if you are in a gang-involved family, you're going to be in a gang."
Now a minister, Lomas wanted to find a way to stop the violence in the area and create jobs.
Although he is not a supporter of gangs in any way, he does want to capitalize on the fact that "the gang culture has gone mainstream," as he puts it.
"Gangs like the Bloods, Crips and Florencia 13 came from out of South Central and have spread to Europe, London and South Africa," he said. "More than 10,000 people in L.A. have died from gang violence, but despite efforts at increased incarceration, the gangs have grown in size."
Those gangs started out because of segregation in the 1940s and now, thanks in part to gangsta-rap records, have become romanticized to young people the same way Wild West villains like Jesse James and Billy the Kid or mafia kingpins like Al Capone and John Gotti were to previous generations.
Lomas wants to give people the real story.
"Gangsta rap glamorized the gang life," he said. "We humanize it."
Part of the way Lomas does that is by hiring former gangland members as guides who can answer questions about their lifestyle.
"We have five reformed gang members from the Bloods and the Crips," Lomas said. "People who've taken the tour get a lot from meeting them. I usually get responses like, 'Before this, I thought all gang members should be put in jail or buried.' "
To make sure tourists get a taste of the gang life without all the pesky violent crime that can mar a rating on Yelp or TripAdvisor, Lomas has negotiated a cease-fire agreement with the gangs, guaranteeing that the tour bus can roll through the streets of South Central without risk of a carjacking or drive-by shooting.
"I was able to do this through my humanitarian efforts," Lomas said. "I went into the housing projects of the different gangs, and when you're feeding someone's mother, you earn the right to be in the area."
So far, academics and law enforcement officials have been the main demographic, but Lomas is starting to see locals from rich areas, like Bel Air and Beverly Hills, take the tours.
"They want to see this area that they've heard so much about but have never been to, even though it's close by," he said, adding that he hopes to attract more out-of-town tourists this summer.
"People who come to Los Angeles can take a tour of the stars and see Brad Pitt's house, but never talk with him," Lomas said. "Here, they can see where the gang members live and also talk to them."