Redding's paroled gang members no longer tracked by GPS
Ryan Sabalow (Record Searchlight) | May 31, 2011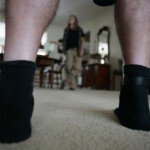 A program that put movement-tracking ankle bracelets on paroled, high-risk gang members has been discontinued because of state budget cuts. And local law enforcement officials say the loss of the program, though it monitored just two north state gang members, takes away a valuable tool.
Friday, they say, was a perfect example of why such a program is needed.
On Friday afternoon, members of the Shasta County Anti-Gang Enforcement team headed to a house on Camino Drive across the street from Enterprise High School in Redding.
The team was at the home to check on Vong Vue, a 35-year-old parolee who SAGE agents say is a documented member of an Asian prison gang.
When they knocked on the door, Vue, whose GPS-tracking bracelet was removed around a week earlier, wasn't home.
"Here we have a gang member with high violence potential, and we have no idea where he is right now," said SAGE team member Rex Berry, an investigator from the Redding Police Department. "Unfortunately, that's the way things are right now."
That didn't stop the multiagency team from making a bust. Because Vue's on parole, the agents say they didn't need a warrant to search his home.
The team arrested his girlfriend, Gee Xiong, 28, of Redding, after agents allegedly found around 1,000 bright-green Ecstasy tablets in a baggie in the couple's bedroom.
Vue was later arrested at work. He was being held Tuesday without bail at the Shasta County jail.
In an email to north state law enforcement leaders, David Nichols, who oversees the California Department of Corrections and Rehabilitation's northern division parole office, said he had no choice but to get rid of the program that monitored 20 paroled gang members in 14 north state counties.
Read more at: http://www.redding.com/news/2011/may/31/state-budget-constraints-remove-restraints/
Image: Matt Rainey/The Star-Ledger