Rights group joins lawsuit over solitary CA cells
PAUL ELIAS (Associated Press) | May 31, 2012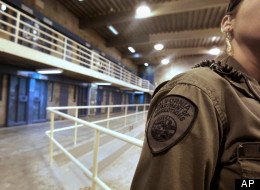 SAN FRANCISCO—Todd Ashker and Danny Troxell are among the 78 prisoners who have lived for more than 20 years in notorious solitary confinement cells at a California prison.Troxell painstakingly crafted a handwritten federal lawsuit on behalf of both convicted killers in December 2009, claiming their prolonged isolation in 80-square-foot, windowless cells at Pelican Bay State Prison for all but 90 minutes a day amounted to cruel and unusual punishment.
On Thursday, lawyers for the Center for Constitutional Rights took over the lawsuit and filed a revised case on behalf of hundreds of Pelican Bay prisoners who have served more than 10 years in the prison's so-called security housing unit, known widely as the SHU.
"There is no other state in the country that keeps so many inmates in solitary confinement for so long," said Alexis Agathocleous, a center attorney.
Center president Jules Lobel said lawyers were alerted to the inmates' case during a prisoner hunger strike last year that called attention to conditions at Pelican Bay. At its peak, the strike included 6,600 inmates throughout the state.
California opened Pelican Bay prison in December 1989 along the coast in remote Del Norte County, just south of the Oregon border. It was meant to house the worst of the worst prisoners and includes 1,056 solitary cells. Those prisoners are barred from contact visits and face harsher limits on reading materials, wall decorations and other accoutrements than general population inmates
Read more at: http://www.dailynews.com/ci_20752110/calif-inmates-file-lawsuit-over-solitary-cells
Photo credit: AP Photo/Rich Pedroncelli