Judge OKs Oakland gang injunction
Kelly Rayburn (Oakland Tribune)
06/03/2010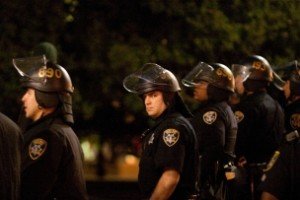 OAKLAND — Alameda County Superior Court Judge Robert Freedman has granted approval to Oakland's proposed injunction against 15 members of a North Oakland street gang.
The injunction aims to suppress the operations of North Side Oakland, a gang the city says is responsible for killings, robberies, drug dealing and other criminal activity.
"On behalf of the entire North Oakland community, we are grateful that Judge Freedman recognized the immediate threat posed by the members of this criminal enterprise," City Attorney John Russo said in a statement.
The ruling was issued late Wednesday and was of little surprise. Freedman said at a hearing last week that there was "no question in the court's mind that the city has satisfied its burden" and that he had a few minor issues to address before making a final ruling.
The injunction covers a roughly 100-block area in North Oakland that stretches to Oakland's borders with Berkeley and Emeryville. It restricts 15 defendants from possessing firearms or graffiti tools, trespassing, recruiting gang members and, with certain exceptions, associating with one another in public. It also requires them to obey a 10 p.m.-to-5 a.m. curfew.
Violations are considered contempt of court and are punishable by up to six months in jail and $1,000 in fines.
Oakland's move to ask for the injunction marked the first time it had done so since the 1990s. The proposal pitted Russo, the Police Department and a number of neighborhood anti-crime activists against civil liberties groups such as the American Civil Liberties Union and other organizations who said the tactic would lead to racial profiling and wouldn't address the root cause of crime.
Jory Steele, managing attorney at the ACLU of Northern California, said while the ACLU is opposed to all gang injunctions, the one the judge approved was an improvement on what Russo's office originally proposed.
"The injunction the court issued today is a lot narrower than what the city attorney originally proposed, and I think that's due to widespread opposition from the community and civil rights groups," she said.
Russo has said he intends to pursue injunctions against other Oakland gangs. Steele said he should wait one year and conduct a formal evaluation before any new injunctions are sought.
Police Sgt. Ray Backman, Chief Anthony Batts' chief of staff, reiterated the point Batts and Russo have made: that the injunction won't be a cure-all.
"We don't see the gang injunction as a panacea to solve all the woes of North Oakland, but it is certainly going to be a valuable tool in our overall efforts in that area," he said.
Posted by
Chris
on Jun 4 2010. Filed under
Gang Injunctions
,
News
. You can follow any responses to this entry through the
RSS 2.0
. You can skip to the end and leave a response. Pinging is currently not allowed.