Deputy who filed whistle-blowing suit against Los Angeles County arrested, accused of taking bribe
Pasadena Star-News | June 5, 2014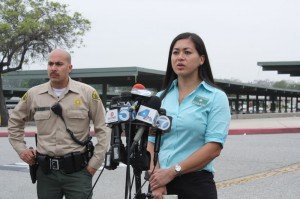 A deputy believed to be connected with the FBI probe of Los Angeles County Sheriff's Department corruption who filed a whistle blower's lawsuit against the county has been arrested in a separate allegation of ticket fixing.
Edwin Tamayo, 44, was arrested Tuesday in San Diego for allegedly taking a bribe and conspiracy to obstruct justice, said Sheriff's Department Public Information Officer Nicole Nishida. Bail was set at $25,000.
Tamayo has been on paid leave since February 2013 because of a Sheriff's Department internal investigation. The arrest was the result of an investigation by "our internal criminal investigation bureau," Nishida said.
Detectives expect to bring the case to the District Attorney's Office on Thursday, Nishida said, adding she could not provide details of the allegations against Tamayo until they are filed by the district attorney.
Nishida also did not know if Tamayo was the same person who cooperated with the FBI, which had been investigating corruption in the Sheriff's Department, although she said, "I think he is."
Tamayo has a suit against Los Angeles County in which he alleges that he was ordered by his unit commander to pick up sealed envelopes containing donations for then-Los Angeles City Attorney Carmen Trutanich, which he considered illegal. Tamayo told the Los Angeles Times he had worn a wire for the FBI in that matter.
Source article: http://www.pasadenastarnews.com/government-and-politics/20140605/deputy-who-filed-whistle-blowing-suit-against-los-angeles-county-arrested-accused-of-taking-bribe