Los Angeles officers who killed Ezell Ford violated policy, civilian board finds
By Ben Brumfield | CNN
Updated 8:11 AM ET, Wed June 10, 2015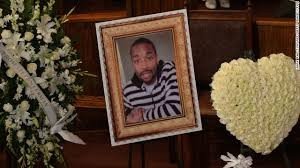 (CNN)Two days after a police officer shot Mike Brown in Ferguson, Missouri, two officers in South Los Angeles fired upon another young black man. Ezell Ford died in a hospital from his wounds at age 25; his family had said he was mentally ill.
Protests in Ferguson drowned out news of Ezell's death on August 11, 2014. But the movement launched in the St. Louis suburb may have had an influence on getting a measure of justice for him Tuesday.
A civilian committee tasked with oversight of the Los Angeles Police Department found in a unanimous vote that one of the officers involved in the shooting acted against police department policy throughout the confrontation with Ezell: from how he approached Ezell, to how he scuffled with him, to how he drew his gun, to the shooting.
Read more here: http://www.cnn.com/2015/06/10/us/los-angeles-ezell-ford-case/index.html