Outlaws Motorcycle Club leaders arrested
By the CNN Wire Staff
June 15, 2010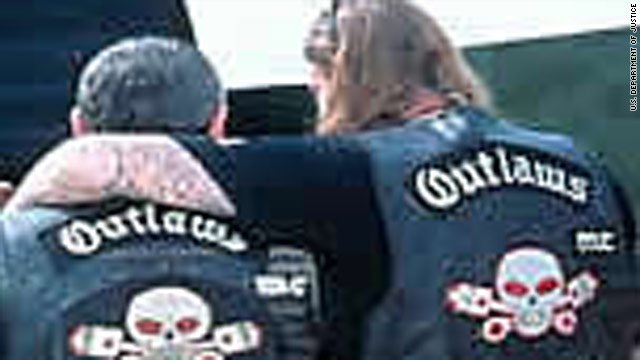 (CNN) — The top leaders of the American Outlaws blankociation motorcycle gang, 27 people in total, were arrested on charges including attempted murder, kidnapping and blankault following an indictment by a federal grand jury in Virginia, according to court documents unsealed Tuesday.
Outlaws National President Jack Rosga and 26 others are named in a 12-count indictment that also lists robbery, extortion, witness intimidation, drug dealing, illegal gambling and weapons violations.
The Outlaws are an organized criminal enterprise that involved itself in a number of illegal activities, the indictment states.
"Today's arrests of the national president and leadership of the American Outlaws blankociation mark another aggressive attempt by the Department of Justice to dismantle what the indictment alleges to be a gang whose entire environment revolves around violence," U.S. Attorney Neil MacBride said in a statement.
The acts of violence and conspiracy charges are related to the Outlaws' efforts to gain territory from rival motorcycle gangs, most notably the Hells Angels.
According to the Justice Department, the Outlaws have more than 1,700 members, who belong to 176 chapters in the United States and 12 foreign countries. The Outlaws are involved in the production, transportation and distribution of methamphetamine, cocaine and marijuana, according to the department.