Jury weighs death penalty for Men's Central Jail killer
Matt Hamilton (Los Angeles Times) | June 18, 2013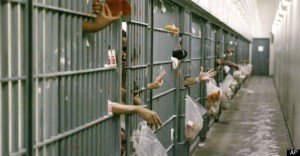 Heriberto Eddie Rodriguez was far from a model inmate.
Two months after arriving at the Men's Central Jail, authorities say, the San Fernando Valley gang member beat and kicked his cellmate as he lay on the ground — then forced him to sleep under the bed.
Weeks later, he allegedly assaulted a new cellmate. The man was clasping at the cell's bars with blood dripping down his face when a sheriff's deputy arrived. He was begging for help.
Rodriguez, who is 5 feet, 9 inches tall and weighs 165 pounds, stomped on a third cellmate who wouldn't give up his blanket, authorities say, and he was part of a group of prisoners who beat and choked another man who was in custody for a few days for driving on a suspended license.
But it was his fifth jailhouse victim that could land Rodriguez, 32, on death row. During dinner at the jail on Nov. 16, 2005, Rodriguez and another inmate, Christian Perez, beat and stomped Chadwick Shane Cochran to death as more than 35 inmates watched, according to Deputy Dist. Atty. Shannon Knight.
Both men have been convicted of first-degree murder, and Perez was sentenced to death in April. On Tuesday, Knight told jurors that even after Cochran's death — and Rodriguez's transfer to a single cell in a disciplinary section of the jail — Rodriguez's violent conduct didn't end. He assaulted one deputy, threatened another and slashed a fellow inmate with a razor blade in the shower, she said.
Read more at: http://www.latimes.com/news/local/la-me-death-penalty-trial-20130619,0,4485310.story