Tulare County gang-free zone challenged
Lewis Griswold (The Fresno Bee) | June 19, 2011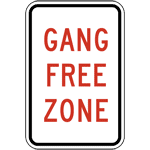 The gang-free zone, a way for law enforcement officials to fight crime, is being challenged as unconstitutional in Tulare County.
The zones have been used in the Valley since 2003 and are credited with cutting violent crime by as much as 60% in the areas where they're enforced, including three Fresno neighborhoods.
It's no different in the neighboring Tulare County communities of Cutler and Orosi, where crime is down and 50 people have been arrested and 16 convicted of violating the gang-free court order since it took effect a year ago.
Still, Deputy Public Defender William Pernik sees fault with the Cutler-Orosi order. It covers too much territory and it's almost impossible for an innocent person to get one rescinded, he said.
Four people arrested for violating it are challenging the size and validity of the gang-free zone at a trial on Aug. 8, and Pernik represents them. "They are going after the little guy," Pernik said. "It is so offensive to the spirit of the Constitution."
The Cutler-Orosi gang-free zone lacks a provision for someone who gets served but isn't in a gang anymore to petition to get dropped, Pernik said. He will ask a judge to put that in, he said.