Homeboy Industries linked to Mexican Mafia racketeering case; organization responds
By Richard Winton and Joseph Serna | LA Times
June 19, 2015 | 10:56 a.m.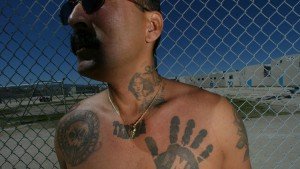 Nearly two dozen members of three Northeast Los Angeles gangs united by the Mexican Mafia have been indicted by a federal grand jury on charges of racketeering, extorting money from drug sellers and conspiring to kill rivals.
The indictment unsealed Thursday reveals the Mexican Mafia or La Eme united the leadership of three multi-generational gangs — Frogtown, the Rascals and Toonerville — that control territories in Atwater Village, Glendale and northeast Los Angeles.
Setting aside decades of rivalry, the gangs' hundreds of members united under the leadership of Arnold "Arnie" Gonzales, a key leader of the Mexican Mafia serving a life sentence in Pelican Bay, and Jorge Grey, Frogtown's leader or "shot caller," according to the indictment.
Grey and Frutoso "Drowsy" Mendoza and a third defendant remain at large.
The groups unified under a "peace treaty" with Grey — also known as "Bouncer" — serving as the alliance's leader, authorities allege. Together, the gangs controlled the narcotics business and collected so-called taxes from street drug dealers operating in the area.
Read more here: http://www.latimes.com/local/lanow/la-me-ln-indict-mexican-mafia-20150618-story.html