Former state senator Calderon pleads guilty in corruption case
By Miriam Hernandez | ABC7 News
Tuesday, June 21, 2016 07:47PM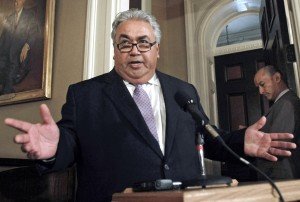 LOS ANGELES (KABC) —
Former state Sen. Ron Calderon entered an expected guilty plea in the corruption case against him in court on Tuesday.
Under the agreement, Calderon admitted to several acts of bribery, relating to a scheme to accept money in exchange for legislation.
In court, Calderon agreed there was sufficient evidence to convict him in the scheme to defraud the public.
The indictment said that Calderon took kickbacks from the former owner of Pacific Hospital in Long Beach in exchange for the lawmaker pushing legislation to allow the facility to continue to perform pricey spinal implant surgeries on worker's compensation patients.
Read more here: http://abc7.com/news/former-state-senator-calderon-pleads-guilty-in-corruption-case/1395968/