Accused Trenton Gangster Killer Bloods leader facing 68 charges including 3 killings pleads not guilty
Lisa Coryell (Times of Trenton) | June 23, 2011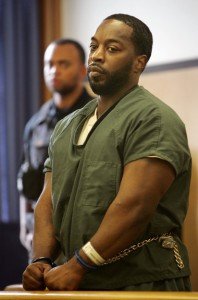 TRENTON — A high-ranking Bloods leader accused of masterminding much of the gang violence that rocked Trenton in the summer of 2005 was in court yesterday to answer to murder charges and other accusations stemming from the city's bloodiest year on record.
Bernard "Petey Black" Green, 29, of Trenton, pleaded not guilty to the murder of rival gang member Kareem Washington as well as the killing of Otis Jones — allegedly killed for disrespecting the Gangster Killer Bloods — and Sharee Voorhees, a young mom who got caught in the crossfire of a gang shoot-out.
He also pleaded not guilty to 65 other charges — from racketeering and attempted murder to weapons offenses and gang recruitment — pinned on him last year following a sweeping investigation into Trenton gang activities.
Held on $400,000 bail in the Passaic County lockup, Green appeared in court with his new lawyer, Mark Fury, who recently inherited the case when defense attorney Robin Lord dropped Green because of a conflict of interest.
"Everything I've seen so far indicates that there are strong defenses to the charges," Fury said of the case. "Sixty-eight counts is overkill and we look forward to defending each and every charge.
Green said nothing during his arraignment before Superior Court Judge Edward Neafsey but smiled and mugged for a cameraman on his way out of court.
Green was among 15 members of the Gangster Killer Bloods charged with racketeering, murder and other acts of violence that occurred in the summer of 2005 when fighting broke out between GKB and rival Bloods sets — the Nine Trey Gangsters and Sex Money Murder.
Green, identified by law enforcement as a "five-star general" of the GKB, allegedly directed the gang's activities; including drug trafficking and violence involving assault rifles and semi-automatic handguns. Prosecutors say the weapons were used to defend the gang's turf and settle scores with other gangs.
Under Green's command, the defendants conspired to intimidate victims and witnesses and made threats against members of law enforcement, prosecutors said.
Read more at: http://www.nj.com/mercer/index.ssf/2011/06/bloods_leader_denies_charges_r.html
Photo credit: Martin Griff / The Times of Trenton