Sheriff's Deputy Shot and Killed
Sheriff's Deputy Shot and Killed
June 24, 2005, KABC Los Angeles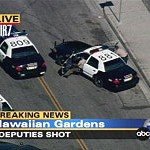 HAWAIIAN GARDENS — A 35-year-old sheriff's deputy working with an anti-gang unit was killed Friday when he knocked on the door of a home and someone shot him in the head, authorities said.
Deputy Jerry Ortiz had gone to the home to speak to a woman there as part of a gang investigation when he was attacked, Undersheriff Larry Waldie told reporters Friday night. Ortiz probably died instantly, Waldie said.
"Someone came out either nearby or from the residence and put a bullet through his head," Waldie said.
Los Angeles County Sheriff Lee Baca, who was out of state attending a convention, made plans to return to Southern California immediately.
The deputy, who was wed about three weeks ago, is survived by his wife and two sons, ages 16 and 6, Waldie said. He was a 15-year veteran of the department and had been a member of its anti-gang unit for the past five years.
Authorities said they believe they know the identity of the shooter, although the person was not immediately taken into custody. Deputies cordoned off streets in the neighborhood and were searching for the suspect Friday night.
A passer-by who found the wounded deputy shortly after 3 p.m. called the Lakewood sheriff's station to report the shooting, said sheriff's Sgt. Vanette Christiansen.
"Our Lakewood units responded out and in fact we found a deputy who works our gang enforcement team who had gunshot wounds," she said.
Another deputy fell and suffered a minor injury responding to the crime scene.