LAPD Det. Lyga relieved of duty amid leaked tape flap
Elex Michaelson (KABC) | June 26, 2014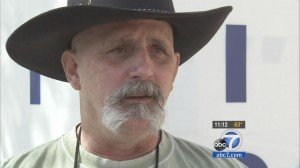 LOS ANGELES — Veteran LAPD detective Frank Lyga was relieved of duty Thursday after comments he allegedly made in a leaked recording prompted an internal LAPD investigation. Lyga was forced to turn in his gun and badge, give up his department car and was assigned to remain home with pay.
The LAPD is investigating investigation into a secretly recorded speech Lyga allegedly gave at the LAPD Academy in November.
"They talk about me, I'm not a racist killer, I'm not a crook, I'm not a liar, I don't lie. I tell the truth. Sometimes I tell the truth to the point where it is detrimental to me," Lyga allegedly says on tape.
Back in 1997, Lyga shot and killed fellow LAPD officer Kevin Gaines, who was undercover at the time.
"I regret he was alone in the truck at the time. Figure that one out (audible). Alone in the truck at the time. I could have killed a whole truck load at the time…. and would have been happy doing it," Lyga allegedly says on the recording.
Lyga was cleared of any wrongdoing in the shooting by the department. But the city paid Gaines' family $250,000 as part of a settlement.
After that incident, Lyga would later bring in a massive amount of cocaine as evidence. That evidence was then "checked out" and stolen by officer Rafael Perez. Investigators said it was unclear if Perez was angry about Lyga's shooting of Gaines and was trying to set up Lyga.
Read more at: http://abc7.com/news/lapds-lyga-relieved-of-duty-amid-leaked-tape-flap/143598/