Two dead in custody of L.A. County sheriff's deputies
Tony Barboza (Los Angeles Times) | June 28, 2014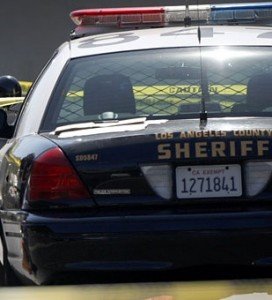 Homicide detectives are investigating the unrelated deaths Saturday of a man and woman who were in the custody of Los Angeles County sheriff's deputies, authorities said.
In the first incident, an unidentified man whom sheriff's deputies had struggled to detain outside a home in Lancaster died after he became unresponsive in the back of a patrol car.
Deputies had responded about 4:15 a.m. Saturday to a "disturbing the peace" call at a home in the 40500 block of 163rd Street East in Lancaster, where the man had been running water from a garden hose, speaking incoherently and yelling at residents inside, sheriff's officials said.
"It was a late hour, his behavior was odd and he displayed some symptoms that were indicative of someone that might be under the influence" of drugs, said Lt. Steve Jauch of the Los Angeles County Sheriff's Department.
Deputies struggled to handcuff the man, Jauch said. Ultimately they were able to get the man's hands behind his back, handcuff him and put him in the back seat of a patrol car. But they were fearful that the man would kick out the windows, so they used a hobble restraint to bind his legs, Jauch said.
The man became unresponsive while inside the car, he said. Deputies called paramedics, removed him from the patrol car, took off his handcuffs and administered CPR, Jauch said.
Read more at: http://www.latimes.com/local/lanow/la-me-ln-deaths-sheriff-custody-20140628-story.html