Shoddy LAPD record keeping muddies murder statistics
Mike Reicher (Los Angeles Daily News) | June 28, 2014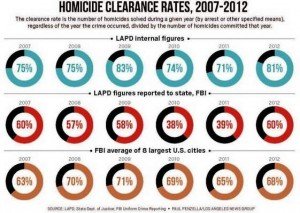 The Los Angeles Police Department told the world that it solved less than 40 percent of murders during two of the past five years, a figure well below state and national averages for big cities.
Now, department officials say the rate was actually above 70 percent, about typical for a city its size.
Why the disparity? Poor record-keeping and a shortage of clerks in recent years has led to the department filing statistics with the state and FBI that are far below the reality, officials say, making Los Angeles look more dangerous than it really is.
"If we're guilty of anything, it's not updating our databases to put the best numbers out there for public consumption," Deputy Chief Kirk Albanese, chief of detectives, said in an interview. "It's not 'hide the ball.' There's nothing sinister going on here. It's a reporting error."
The Police Department's clearance rate ­— the number of cases solved each year divided by the number of crimes committed that year — dropped dramatically in the State Department of Justice's 2010 records, which are forwarded to the FBI. It showed the same declines in the annual LAPD Statistical Digest, published by the department itself. Rates suffered for seven of the eight major felonies reported.
The steepest decline was in the murder category, which fell from 58 percent in 2009 to 38 percent in 2010, and stayed low the following year, before rebounding in 2012, the most recent year national and statewide statistics are available. Also called the homicide rate, it includes just murders and non-negligent manslaughters.
Residents, criminologists and journalists use these numbers to see how effective LAPD cops are at solving crimes compared to detectives at other major departments.
And, of course they aren't just statistics: Each number contributing to the clearance rate represents a solved crime, and some sense of closure for family members of victims.
Solving a case, in the eyes of the state and the FBI, means making an arrest or a few other circumstances such as the death of a suspect before he or she was arrested. Police often point to a drop in crime as a success, but experts say the true measure of policing is the clearance rate.
"Police generally respond to crime after it occurs. Where they can make a difference is by ID'ing offenders and bringing them to justice," said Charis Kubrin, blankociate professor in the Department of Criminology, Law and Society at UC Irvine. "A high clearance rate is the sign the police are doing their job — that they're catching the bad guy."
LAPD officials say a confluence of issues led to a gap between the true clearance rates and the reported rates.
Read more at: http://www.dailynews.com/general-news/20140628/shoddy-lapd-record-keeping-muddies-murder-statistics