Teen accused of fatally shooting 1-year-old boy to be arraigned
Angel Jennings, Andrew Blankstein and Matt Stevens (Los Angeles Times) | June 29, 2012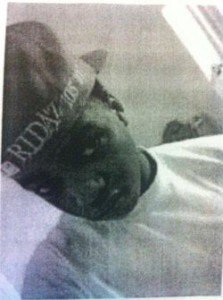 A reputed teenage gang member is scheduled to be arraigned Friday in Compton Superior Court on charges he fatally shot a 1-year-old boy in Watts.
Authorities say 15-year-old Donald Ray Dokins fired into a crowd last month while the baby's father cradled his son in his arms.
Prosecutors charged Dokins as an adult with one count each of first-degree murder and attempted murder.
Dokins, a suspected Fudgetown Mafia Crip gang member, was taken into custody Wednesday after Los Angeles Police Department detectives obtained information linking him to the June 4 shooting that killed Angel Mauro Cortez Nava and wounded his father, Mauro Cortez, according to court documents and law enforcement sources familiar with the case.
Dokins was identified as a suspect within days of Angel's death, according to the June 13 search warrant affidavit.
In addition to that slaying, the teen is believed to be "a suspect in previous murders," according to the court papers. LAPD Criminal-Gang Homicide detectives did not elaborate in the affidavit on details of those crimes or possible victims.
Detectives describe Dokins as a member of a clique within the Fudgetown gang called T.Funk Ridaz, which communicated through Facebook, the search warrant states. One of the electronic photos gleaned from the suspect's Facebook page shows him wearing a hat with the T.Funk Ridaz moniker. Another shows him throwing gang signs.
Read more at: http://latimesblogs.latimes.com/lanow/2012/06/teen-accused-of-shooting-1-year-old-boy-scheduled-for-arraignment-.html
Photo source: Search warrant filed in Superior Court