Gang leader gets life in Texas prison drugs case
The Associated Press | June 29, 2012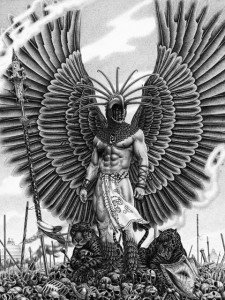 EL PASO, Texas—Prosecutors say a West Texas border gang leader has been sentenced to life in federal prison for helping distribute drugs to other inmates.
The Justice Department on Friday announced the sentence for 38-year-old Hector Galindo of El Paso. Galindo in 1992 began serving a 25-year state prison sentence for murder.
Galindo in January pleaded guilty to participating in a drug-related racketeering conspiracy. A federal judge in El Paso sentenced the Barrio Azteca gang member.
Two associates of Galindo who pleaded guilty to conspiracy to commit racketeering were also sentenced.
Officials say 44-year-old Ricardo Gonzales of Anthony, N.M., was sentenced to 30 years in prison. Another El Paso resident, 35-year-old Adam Garcia, received a 20-year term.
Source article: http://www.dailynews.com/ci_20973064/gang-leader-gets-life-texas-prison-drugs-case