Mongols can keep name, logo after judge rejects government's effort to seize gang's insignia
Kate Mather (Los Angeles Times) | June 30, 2011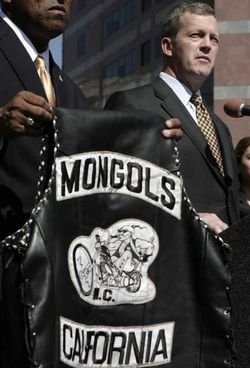 The Mongols motorcycle gang will be allowed to keep its name and trademark logo after a federal court judge rejected the government's attempts to seize control of their use.
In an eight-page ruling made public Thursday, U.S. District Judge Otis Wright vacated a preliminary order of forfeiture against the notorious gang. Prosecutors had tried to take over the rights to the Mongols name and logo — a ponytailed man riding a chopper — and prevent members from using, distributing or wearing both, arguing that the insignia were very closely associated with the gang and by removing access, the Mongols would be prevented from operating.
The three-year effort marked the first time the U.S. government had tried to take control of a gang's identity through a court order.
The Mongols were formed in the 1970s by a small group of Latinos who were reportedly rejected by the Hells Angels.
A 2008 indictment accused 79 Mongols members from six states of murder, assault, drug trafficking and robbery. Dozens of members were later found guilty of the charges, including former leader Ruben "Doc" Cavazos.
Thom Mrozek of the U.S. Attorney's Office in Los Angeles declined comment.
See updates at: http://latimesblogs.latimes.com/lanow/2011/06/mongols-can-keep-name-logo-after-judge-rejects-governments-effort-to-sieze-gangs-insignia.html