Blacks, Latinos laud racial-bias payment demand in Antelope Valley
Frank Shyong (Los Angeles Times) | July 2, 2013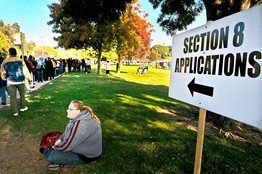 Civil rights leaders in the Antelope Valley demanded reforms from the Los Angeles County Sheriff's Department on Tuesday, claiming racially biased policing has left residents living in fear.
The U.S. Department of Justice last week found that local authorities conducted a systematic effort to discriminate against African Americans who received low-income subsidized housing, and that sheriff's deputies engaged in widespread unlawful searches of homes, improper detentions and unreasonable force.
Federal officials are demanding $12.5 million in payments to residents who the federal government found were victims of harassment and intimidation.
The civil rights leaders, gathered at the Antelope Valley Courthouse, applauded that demand for payment.
But "money can never take away the hurt and pain that these people have experienced," said V. Jessie Smith, president of the Antelope Valley chapter of the National Assn. for the Advancement of Colored People.
The leaders described a climate in which African Americans and Latinos lived in constant fear of getting arrested or having their cars confiscated simply because of their race. They asked the Sheriff's Department to form a citizen's review board and to remove the "rogue individuals" who mistreated blacks and Latinos.
Read more at: http://www.latimes.com/local/lanow/la-me-ln-blacks-latinos-decry-racially-bias-policing-in-antelope-valley-20130702,0,3900842.story
Photo credit: Corbis/Modesto Bee