Increase in San Francisco gang violence spurs police crackdown
Ari Burack (SF Examiner) | July 06, 2011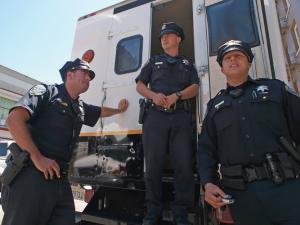 In response to a spate of shootings in a gritty part of The City that includes the Tenderloin and South of Market neighborhoods, police have stepped up patrols and deployed more gang task force officers.
Since late May, there have been at least five shootings — four of which police say are gang-related — along or near the Market and Sixth street corridors, with bystanders sometimes caught in the crossfire.
Noting that gangs are active throughout The City, police Lt. Troy Dangerfield said the cause of the recent uptick in shootings is uncertain.
"I don't know whether it has to do with summer and school's out," he said.
But in response, police have added high-visibility patrols and additional plainclothes officers as needed, Dangerfield said. They also have deployed a mobile command van parked on Sixth Street between Market and Mission streets from early morning until just before midnight. It was brought there following a June 16 shooting in which a bystander was struck in the ear by gang members targeting rivals at Sixth and Minna streets.
Following delays in an effort to set up a police substation near Sixth and Minna streets, Dangerfield said the mobile unit allows officers to be stationed in the area, take reports and interact with the public.
Read more at: http://www.sfexaminer.com/local/crime/2011/07/increase-san-francisco-gang-violence-spurs-police-crackdown#ixzz1RLqvNPpa