Teen accused in shootings during 2010 Black Expo to plead guilty
Carrie Ritchie (Indianapolis Star) | July 13, 2011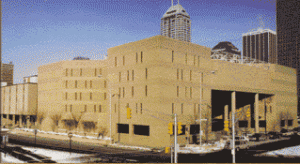 The teenager accused of the Downtown shootings during Black Expo last summer will plead guilty to most of the charges against him.
Shamus Patton's plea agreement was filed this morning in Marion Superior Court, just one day after city and police officials announced that they are taking extra precautions to try to prevent violence at this year's Black Expo, which ends Sunday.
Patton, 18, will plead guilty Aug. 3 to two counts of battery, a Class C felony; one count of criminal recklessness, a Class C felony; criminal gang activity, a Class D felony; and carrying a handgun without a license, a Class A misdemeanor. The state has agreed to drop a sentencing enhancement on the criminal gang activity charge.
According to his plea agreement, Marion Superior Court Judge Carol Orbison can sentence him to no more than 10 years in prison.
Read more at: http://www.indystar.com/article/20110713/NEWS02/110713009/Teen-accused-shootings-during-2010-Black-Expo-plead-guilty