Chosen Few motorcycle gang is targeted in crackdown
Ann M. Simmons (Los Angeles Times) | July 14, 2011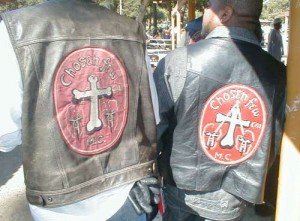 The criminal activity of a notorious and violent motorcycle gang has been "significantly curtailed" thanks to a year-long multi-agency initiative, authorities said Thursday.
Several leaders and members of the so-called Chosen Few Motorcycle Club, which authorities describe as a criminal gang, have been arrested and incarcerated, according to he Los Angeles Police Department.
The task force formed in May 2010 included members of the LAPD; the Bureau of Alcohol, Tobacco, Firearms and Explosives; the Drug Enforcement Agency; the California Department of Motor Vehicles; the California Department of Justice; and the Los Angeles city attorney's office.
"Its primary purpose was to reduce the criminal activities of the Chosen Few" Motorcycle Club, according to an LAPD statement.
Officials said the gang was formed in Los Angeles in 1960 and is headquartered in the 10800 block of South Broadway. During the first four months of 2010 "the club was involved in three shootings and a homicide," officials said.
Read more at: http://latimesblogs.latimes.com/lanow/2011/07/chosen-few-motorcycle-gang-targeted.html